The Purple Trend, Jump on Board Or Let It Slide By?
Pantone Inc. announced it's 2018 Color of the Year last week, Ultra Violet. I have found that people tend to have strong feelings about purple, so it should be interesting how this introduction is received!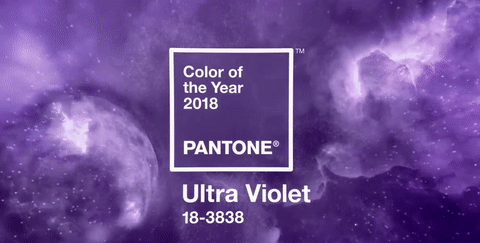 3 things to know about Pantone's Ultra Violet
// If you love it, go big. When trying out this hue in your home don't even think about painting an accent wall! Choose the smallest, darkest room in the house and paint it floor to ceiling in your favorite shade of deep purple. The color will surround you like the softest cashmere sweater, instead of an accent wall that feels like the third wheel on an otherwise great first date. //
// If you hate it, move along. Trends are fun because they are a reaction to world events such as weather patterns, food issues, political movements, pop culture and economics. Trends in color and design are OPTIONAL and should only be incorporated with a personal style when they feel 100% authentic. Your personal color story is more important than any trend will ever be. //
//  What does it all mean? Royalty, rebellion, Prince, your favorite vegetable? The point in picking a Color of the Year is simply this: It gets more people talking about color! And in a world of tumultuous news reports, if we spend a small part of our day debating the virtue of purple, well I think that's a good thing! //
Here are some projects we did with clients who love purple. We love clients with strong opinions on color and were happy to oblige!
// Downtown Condo //
// A Home in the Woods //
// Brams Room//
My favorite purple room of them all, for my sweet Bram. This is the one and only  color he asked for, such a little love!
Want to learn more about this trend? Listen to my interview with Shelley Irwin HERE
Love it or hate it, will you use this color in your life?
XO,